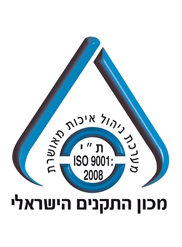 MOVING CASES co. was founded in 1998 as a multi-faceted packaging solution company.
Moving cases is a young dynamic company, we hire only qualified, professional staff members, and are ISO 9001:2008 qualified by the working standard institute in the field of casing. We work according to MILSTD in packaging In order to constantly improve our services and products, we employ several quality assurance processes as well as ongoing research, learning from improvement suggestions, customer feedback and employee cooperation.
We use environmental friendly materials.
Moving cases is located in Azor industrial zone and specializes in custom packaging solutions. We create cases for private costumers, businesses, institutions and different organizations. Among our customers are high tech companies, the Israeli department of defense, sound and light companies, private and business clients and more… The company provides cost effective, fast, and high quality solutions while providing full services and support for our products.
We support our costumers involvement in the design process, allowing them to work with our engineering department and supplying them with reliable professional advice.
Moving cases company has made a point of supplying products of uncompromising quality. We achieve this end by putting endless effort into monitoring and improving our manufacturing process and keeping a direct link with global companies in order to receive constant updates on new materials and innovations in the international market.